Krabb was the first beast from Gwildor Tom had to free. Krabb is a giant, yellow crab with huge claws and several legs. Krabb lives in and protects Gwildor's oceans. Before he was turned evil, Krabb helped to keep the fish in the water. When he was under Velmal's spell, he attacked and killed fishermen. In the beginning of the book, Krabb attacks a boy named Castor on his small fishing ship. Tom and Elenna later find him on the beach and Tom then heals him with Epos' talon. Tom also gets attacked on a boat by Krabb. Krabb was enchanted by green poison. The prize, Freya, Mistress of the Beasts used to defeat Krabb was the Pearl of Gwildor, which allows someone to breathe underwater as long as it touches their skin.
Pictures
Edit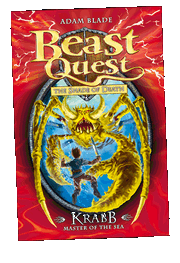 Plot of the book
Edit
TBA
Ad blocker interference detected!
Wikia is a free-to-use site that makes money from advertising. We have a modified experience for viewers using ad blockers

Wikia is not accessible if you've made further modifications. Remove the custom ad blocker rule(s) and the page will load as expected.